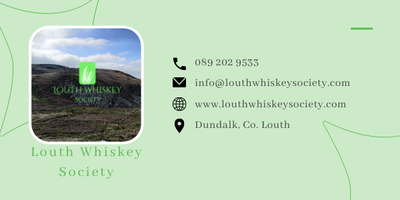 Louth whiskey society membership benefits currently include:
A three month trail of the hugely successful and helpful Whiskey Companion app, this app is essential to any whiskey collector. This app is also a must have if you like to stay up to date with all the latest releases and to be the first to know about Irish whiskey news.
Discounted tickets to ALL Louth whiskey society tastings, as a member you get a discount code sent to you for each tasting event that you can use to save those all important €€€€ on tickets. Just add the discount code when you buy tickets through our payment partner.
Priority tickets - As a member you'll have access to buy tickets to popular tasting events before tickets are made available to the general public.
Member only events - Members will also attend member only events, these exclusive events will be unique experiences throughout the year. We hope to be able to get access to areas of the Irish whiskey world not open to the public.
As the society grows we hope to add more benefits to being a member, discounts for whiskey, tours and more will be announced throughout the year.
We look forward to seeing you at one of our events very soon.
Become a member today,
Membership sign up